In August 1891, Mrs Stalker's name first appears in the Borrowers Register. That year she borrowed Dodderidge's ' The Family Expositor' on six dates – probably a different volume each time. In 1892 her reading is dominated by Smith's Sermons, Monro's Sermons, Robert's Sermons and Flavel on Death. In previous years she may well have been reading books brought home by her husband and her children.
Thomas had continued to borrow Scott's novels, an increasing variety of books on historical topics and the lives of important figures, as well as Chamber's 'Book of Days', William Robertson's 'The History of America', Buffon's 'Natural History' and Thomas Pennant's 'A Tour of Scotland and the Outer Hebrides, 1772' – in which Innerpeffray is mentioned: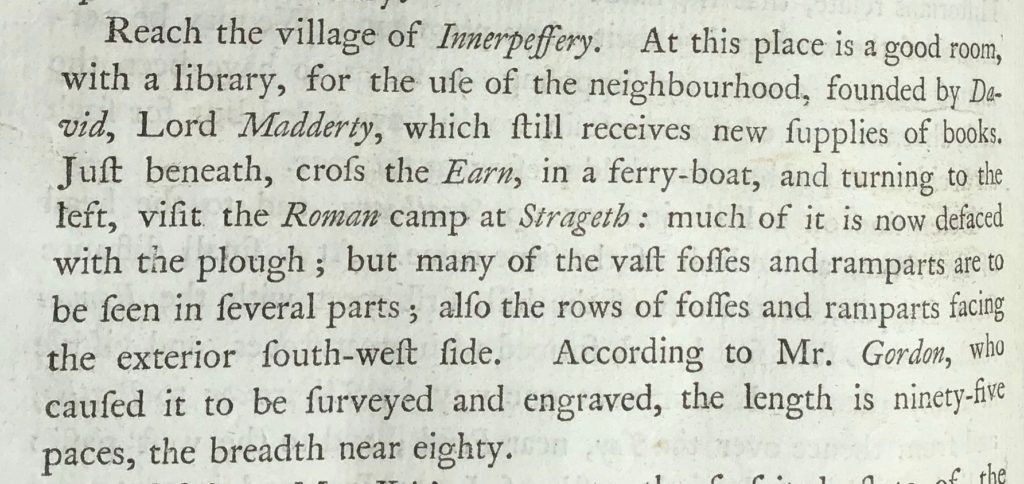 From 1892 until 1896 he also became an avid borrower of 'The Scots Magazine'. From 1896 onwards he was borrowing prolifically and his choice of reading became extremely varied, particularly during the years 1896 to 1899, as can be seen below from some of his entries in the Register.
In May 1900, Thomas and Ann moved to Inchbrakie Cottage, Crieff, and by then the family had all left home. Catherine was the 'Cook Domestic' at Balnaboth Mansion, Glenprosen, Angus, and by 1911, she was working in Dunoon, Argyll. At some stage after that she returned to Crieff and was living with her parents when they died.
By 1901, John had married and was still living in Glasgow. His occupation was recorded as a Coal Traveller. William had moved to different lodgings in Glasgow and was now a Railway Porter. He would continue to work on the railway and later moved to Larbert, Stirling. In 1901 Thomas jnr. was living and working at Tullibardine Mill, Blackford, as a forest labourer.
In 1901 Janet was employed as a Dairymaid (Domestic), at Paddockhaugh, Blackford. She married John Steven Mitchell in 1903 and by 1911 was living in Fife. Margaret appears on the 1901 census as a General Domestic Servant at Summerlea, Ferntower Road, Crieff. She was living at home again in 1911 but appears to have still been working as a Servant (Domestic).
Jane married in 1900 and by the beginning of April, 1901, she was living with her husband, David McKeith, and eleven month old son, William, at 40, East High Street, Crieff.
Thomas snr. borrowed his last books – 'Maurice Dering' (a novel) and 'Lizzie Foston of Grayrigg' (content unknown) – on the 27th November, 1900, returning them on 12th January 1901. By April 1911, Thomas, wife Ann, daughter Margaret and granddaughter Catherine McKeith, were all living at Hosh Farm Cottage, by Crieff. Ann died in 1918 and when Thomas died in 1920 he was still living at Hosh Cottage, with his daughter Catherine.
Thomas borrowed too many books for them all to be listed here but the following extracts from the Borrowers Register, 1897 to 1900, give an insight into his choice of reading during these final four of his thirty five years of borrowing. (Note: Extracted entries are transcribed exactly as they appear in the Borrowers Register.)
10-2-1897 The historical castles and mansions of Scotland A H Millar
17-3 Lost in the wilds of Canada Eleanor Stredder
25-3 Hudson Bay R M Ballantyne
7-4 Recollections of Dean Boyle G D Boyle
19-5 Jane Eyre Charlotte Bronte
16-6              Robbery under Arm
s7-7                Darien or The Merchant Prince           Bartholomew Warburton
28-7                            The Autobiography of an English Gamekeeper                                                                        John Wilkins
| | | |
| --- | --- | --- |
| 30-7 | With the Camel Corps Up the Nile | Edward Gleichen |
| 5-8 | The Life of John Duncan | William Jolly |
| 23-8 | Disraeli and his day | William Fraser |
| 2-9 | Round London | Montagu Stephen Williams |
| 5-10 | Quiet Folk | |
| 15-10 | Health and Life | Benjamin W Richardson |
| 26-10 | My Village | Robert Menzies Fergusson |
| 16-11 | Life of Boswell | Percy Hetherington Fitzgerald |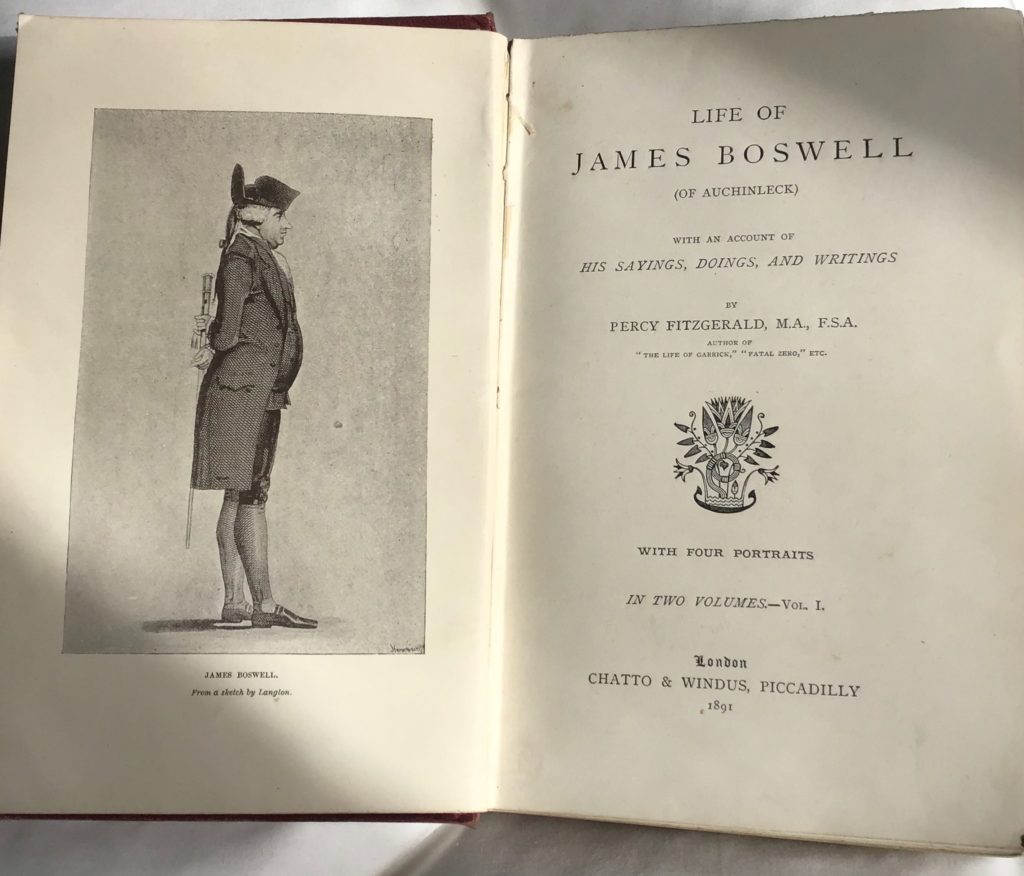 | | | |
| --- | --- | --- |
| 15-1-1898 | Six Months at the Cape | R M Ballantyne |
| 5-3 | Pall Mall Magazine | |
| 10-3 | Livingstone and Stanley | |
| 1-4 | The Dog Crusoe and his master | R M Ballantyne |
| 9-5 | Leaves from the journal of our life in | |
| | the Highlands | Queen Victoria |
| 28-5 | Coral Island | R M Ballantyne |
| 14-6 | Is Natural selection the creator of species | Duncan Graham |
| 6-7 | George Stewart, A Story of Waterloo | |
| 21-7 | Basil Woolcombe | Arthur Lee Knight |
| 15-8 | Mary Barton | Elizabeth Gaskell |
| 30-9 | A Foolish Marriage | |
| 19-10 | Harmsworth and Pearson Magazine | |
| 24-10 | Auld Foulis and the jeely well | T Hardy |
| | Across Greenlands Ice Fields | Mary Douglas |
| 10-11 | The Life Boat | R. M. Ballantyne |
17-2-1899 Life of Dean Burgon
28-2 Life of Dean Burgon Vol. II
24-3 Life of Mary Queen of Scots 2 Vols. & The Munsey Magazine 15-4 Conquering and to Conquer
31-5 The Trials and Triumphs of Jeanie Douglas and Peter Fern
13-7 Century Magazine, Windsor Magazine, The Royal Magazine & Munsey Magazine
31-8 Sir Walter Raleigh
Harmsworth Magazine June 1899, Pearsons Magazine July 1899 2-10 The Kings Own Borderers
17-11 The Royal Magazine & Harmsworth Magazine Pearsons Magazine & Black and White Magazine
21-12 The Lady's Realm, Lady's World and Pearsons Magazine Special Black and White Magazine & Punch (2 copies)
3-1-1900 The Lancashire Witches
The Roll of Drum & Masterman Ready 18-1 Rob Roy & The Royal Magazine 4 vols.
10-2 The Sphere & Black and White Magazine (3 copies)
15-3 The Woman at Home, Royal Magazine (2 copies) & Harmsworth Magazine 2-4 Dora & The Bride of Lammermuir
4-7 Early Years of the Prince Consort & Dennis Drone 14-11 The Woman at Home (2 vols.), Magazines (2 vols) 27-11 Maurice Dering
Lizzie Foston of Grayrigg
12-1-1901 The books borrowed in November were returned.
There are no further entries for any member of the Stalker family.
However, there is one more part of the story of the Stalker family that needs to be told. Before Ann and Thomas Stalker died, they would have known that their son, Thomas George Stalker, had been presumed killed in France, in 1917, but they would not have known where, or even if, he had been buried.
Fortunately, much of his Service Record is now available to look at, courtesy of the CWGC, thus enabling us to complete his story. On the 1st March 1916, Thomas jnr. attested with the 3rd Scottish Rifles. Aged 40, single, and living at Easter Boghead, By Lenzie, he was working as a farm labourer and wood cutter. He was mobilised and posted on 9th April 1916 and then transferred to the Argyll and Sutherland Highlanders on the 1st June. In August 1916, he spent three weeks in the Field Hospital, North Walsham, suffering from 'Debility', a general term used then for a whole range of medical conditions.
He embarked for France on the 28th January 1917. Fighting with the Princess Louise's Argyll & Sutherland Highlanders 11th Battalion, Thomas was initially reported 'Missing 15 April 1917'. In the terrible conditions of WW1 battlefields, it was not always possible to be sure that someone was dead. Initially, he would be recorded as missing and the next of kin informed by letter that this did not necessarily mean that he was dead, as he may have been taken prisoner or become separated from his regiment. If, after six months, no further news him had been received by either his regiment, or unofficially by the family, then his death would have been presumed to have occurred in the place and on the day that he was last known to be alive.
The 'Missing' date on his Service record is followed by 'Place of Casualty – Field 9 April 1917' (this was the first day of what is known as the Arras Offensive, 9th April – 15th May, 1917) but it was six months later, on 6th November 1917, before 'Now reported killed' is added to his record. This news would then have been conveyed officially to the family.
On the 11th July 1919, his sister Catherine signed a Declaration, witnessed by the Minister, Woodside, Dollerie Terrace, Crieff, confirming that the 'relatives of the deceased soldier now living' were: –
Father – Thomas Stalker, Hosh Cottage, Crieff.
Brothers – William Stalker 48, 19 Comely Park Street, Glasgow. Sisters – Catherine Stalker 54, Hosh Cottage, Crieff
Jessie Mitchell 46, Clunie Street Manse, Abernethy.
Margaret Ann Congie 41, P.O Verskifhers Kop, Dim-Harrismith, O.F.S. South Africa Jane McCulloch McKeith 39, Drummond Street, Comrie
The receipt of the official plaque and scroll in commemoration of Thomas was acknowledged by his father on the 3rd March 1920. The receipt of his British War Medal and Victory Medal was acknowledged by his sister, Catherine, on 23rd November 1921.
The next event in Thomas's story was when the following note was added to the bottom of the page on his Statement of Service record: –
'Buried at Hirvin Farm British Cemetery, St. Laurent Blangy, 2 miles east of Arras. Next of kin notified 31/1/22.'
One has to presume that this date may be indicative of the time when his remains were first found, identified and then buried in an 'official' grave. His sister Catherine, of Drummond Street, Comrie, was listed as his next of kin.
We then discover that during 1924 -1925, as with thousands of others like Thomas, who had been killed during the fighting in this part of France and buried in one of the many small cemeteries such as Hirvin Farm, or in simple graves where they fell on the battlefield, his body was exhumed. The reburials all took place in the Cabaret-Rouge British Cemetery, near Souchez. The means of his official identification recorded simply as 'Cross (French), Field Service Dress and Kilt'. Thomas George Stalker's siblings (his sister Catherine, of Drummond Street, Comrie, listed as his next of kin) were fortunate in that he could be identified, as over half of the more than 7,500 WW1 burials in this cemetery alone, remain unidentified.