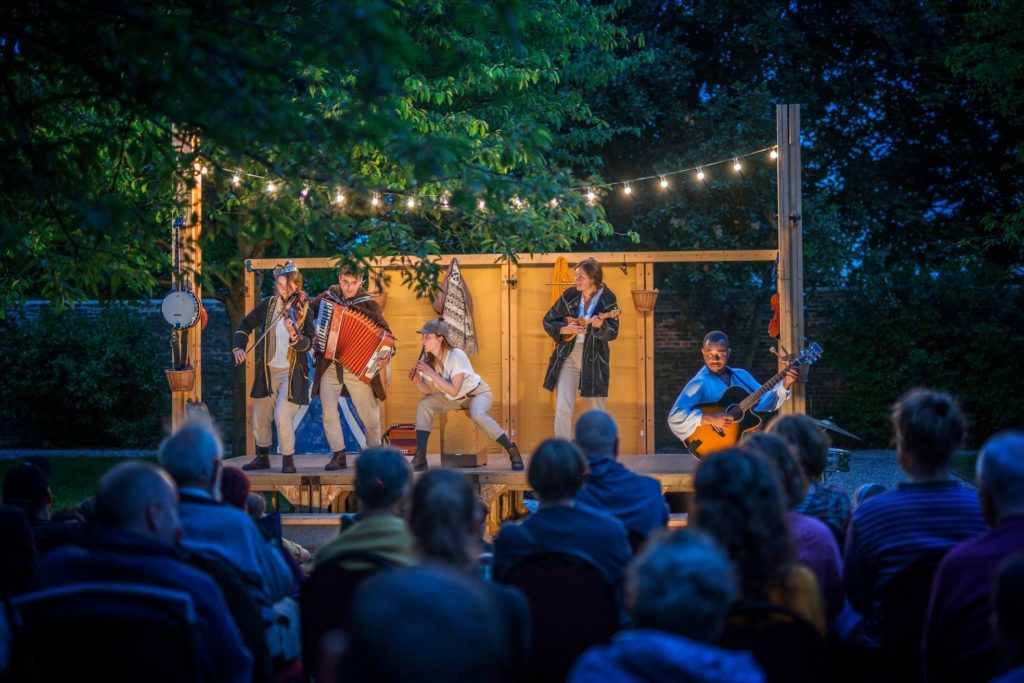 What's on
The Library runs events throughout the year: exhibitions from the collection, events connected to the collections and music and social events to raise funds for running costs and special projects. Find all the dates for your diary and a downloadable copy of our Footnotes newsletter on this page . Tickets and information: 01764 652819: info@innerpeffraylibrary.co.uk or book online via the Events section in the shop.
Our Heritage Trail by the river and the woodland garden have a lovely display of Spring flowers and guidelines permitting, the grounds and trail remain open for visitors to enjoy seven days a week: a peaceful stroll to enjoy wildlife and history.
If you are not venturing out we have a selection of videos to enjoy from your armchair on our website bringing alive the collection with our Keeper of Books and Volunteers: look out for new videos coming up this month.
Dates for your diary
Wed
2nd June




Thu 10th to Sun 13th June



Fri 9th July
2021
7pm
outdoors






Thu
29th July
Library Re-opens for visitors. If you can, please book your visit in advance through our reservations partner Art Tickets. Alternatively call us to arrange your visit on 01764 652819.


Petronella Haldane
A Retrospective Exhibition of Paintings and Drawings in the Schoolroom
Celebrating the artistic career of the artist and her love for Innerpeffray. Entry to the exhibition is free. There is no need to book in advance. For further information about this event please follow the link here.


Three Inch Fools in The Merry Wives of Windsor The Three Inch Fools take to the road with five actors, all manner of musical instruments and an inventive take on Shakespeare's raucous comedy. The Fools are dusting off their instruments and stepping back into the great outdoors, with a riotous new production of The Merry Wives Of Windsor. Prepare for an evening of mischief and hilarity, as The Fools present this rip-roaring Shakespearean comedy at some of the most beautiful and historic landmarks in the UK.

Bring your own picnic for this outdoor theatre summer treat. Seats will be provided. A pop-up bar will offer wine, soft drinks, tea and coffee for sale at the event.
Tickets priced £16 for adults and £10 for under 18s (under 10s free) are available here.

Putting the Past on the Page – workshop
Where do writers do get inspiration? History is a story: his – or her – story. So, where better to look for literary inspiration than Innerpeffray, a place steeped in history and historical source material?
This workshop by Steph Haxton, historian and author, will explore ideas sparked by Time.
Poetry or prose, to share or just for your own pleasure, this workshop aims to blow the cobwebs off your quills and stir your stylus! You might even write a book!
No experience necessary for this word-play workshop. Please bring your own lunch.
Cost: £30, including all materials, tea/coffee, free tour of library.


Exhibitions 2021
History books, historic fiction; travel and tourism; poetry; dramatic landscape; books – Scotland has it all and in our exhibition this year we look at all of these, through the eyes of poet, novelist, antiquarian and collector Sir Walter Scott.
Private Events
If you would like to hold a private event at the Library, Schoolroom or both please do get in touch.  We are delighted to hold book launches, weddings, birthday treats and private tours outwith opening hours.