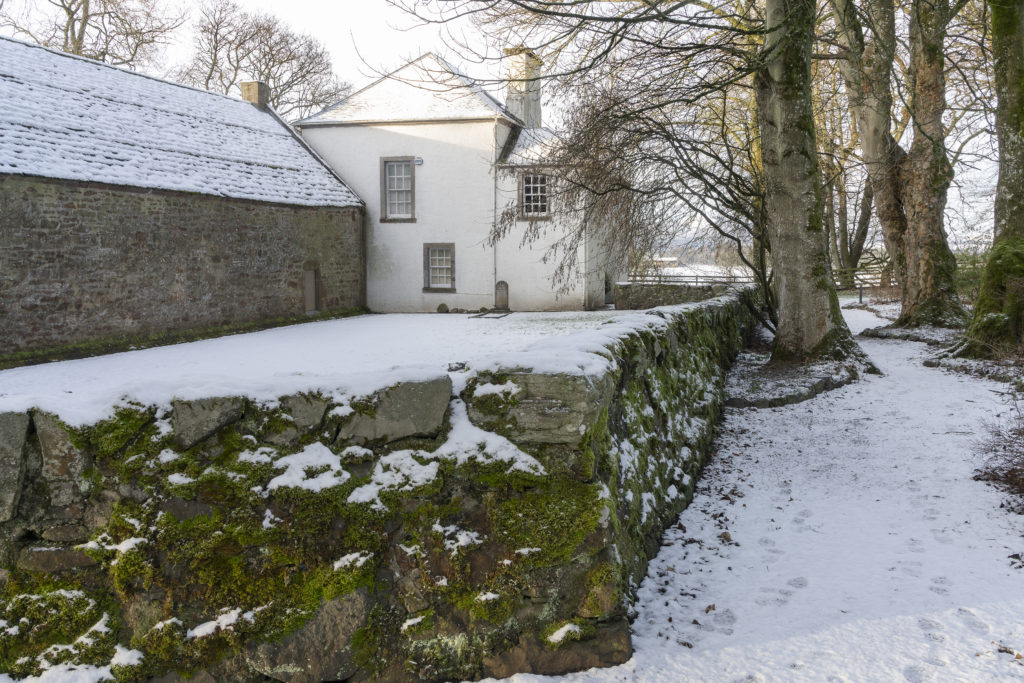 What's on
The Library runs events throughout the year: exhibitions from the collection, events connected to the collections and music and social events to raise funds for running costs and special projects. Find all the dates for your diary and a downloadable copy of our Footnotes newsletter on this page . Tickets and information: 01764 652819: info@innerpeffraylibrary.co.uk or book online via the Events section in the shop.
As we move into February at Innerpeffray we are starting to plan events for the year and kick off with the postponed Innerpeffray Lecture, this year brought to you online.
We also hope to welcome you to see the beautiful Innerpeffray snowdrops making a wonderful display across the grounds in the woodland garden and on the slopes to the river on the Heritage Trail. Guidelines permitting, the grounds and trail remain open for visitors to enjoy seven days a week: a peaceful stroll to enjoy wildlife and history.
If you are not venturing out we have a selection of videos to enjoy from your armchair on our website bringing alive the collection with our Keeper of Books and Volunteers: look out for new videos coming up this month.
Dates for your diary
mid January – mid March

Thur 25th February
7pm
online


3rd March 2021

Thu 18th March 2021
7pm
online

Sat 22nd May
2pm
online




Thu 3rd June 2021
6pm
in Library
& outdoors


Fri 9th July
2021
7pm
outdoors




Snowdrop Festival: enjoy the winter beauty of these delicate early flowers in the Innerpeffray grounds. Free entry, donations welcome.

The Innerpeffray Lecture for 2020/21 will be given by Dr James Grant MBE, former trustee of Innerpeffray, retired doctor and accredited lecturer for the Arts Society. The title for his lecture is Medical Gold – read more here. Jim is passionate about medicine, art and is a booklover and collector. The lecture will be delivered online on Thursday 25th February at 7pm, and tickets, priced £12 are available here or call 01764 652819. We hope you can join us.


The Library will not now be re-opening for visitors as planned on Wed 3rd March 2021. We will be announcing our opening date as soon as possible, depending on guidance.

Nunkie Theatre present an online reading of The Tractate Middoth
Nunkie Theatre will return to Innerpeffray's virtual stage to read another of MR James' tales of the supernatural. Enjoy this spirited rehearsed reading, on your own screen, in your own home.
Tickets priced £8 are available here

Library Lives: Books, Borrowers and Beyond
This free online event will highlight Innerpeffray's unique Borrowers' Register and the stories it can tell about the library's books and borrowers. Hear from a variety of experts about Innerpeffray's place in the amazing history of library use in Scotland, and find out how you can uncover the world behind borrower names and book titles. Organised in conjunction with the project Books and Borrowing 1750-1830, based at the Universities of Stirling and Glasgow (borrowing.stir.ac.uk). Free, please book here.

Walter Scott at Innerpeffray – Read to Death – Opening Event
We are celebrating the 250th anniversary of the birth of Sir Walter Scott with a special exhibition, sponsored by the Friends of Innerpeffray Library (FOIL), exploring one what makes Scott a one of Scotland's literary legends. This opening event combines a private view of the exhibition with drinks in the Library and readings in the outdoor reading room beside the river. Limited tickets available.
Tickets £10, Patrons and FOIL Members £5

Three Inch Fools in The Merry Wives of Windsor The Three Inch Fools take to the road with five actors, all manner of musical instruments and an inventive take on Shakespeare's raucous comedy. The Fools are dusting off their instruments and stepping back into the great outdoors, with a riotous new production of The Merry Wives Of Windsor. Prepare for an evening of mischief and hilarity, as The Fools present this rip-roaring Shakespearean comedy at some of the most beautiful and historic landmarks in the UK.

Bring your own picnic for this outdoor theatre summer treat. Seats will be provided. A pop-up bar will offer wine, soft drinks, tea and coffee for sale at the event.
Tickets priced £16 for adults and £10 for under 18s (under 10s free) are available here.
.


Exhibitions 2021
We will be announcing our exhibition plans shortly.
Private Events
If you would like to hold a private event at the Library please do get in touch. We are delighted to hold book launches, weddings, birthday treats and private tours outwith opening hours.