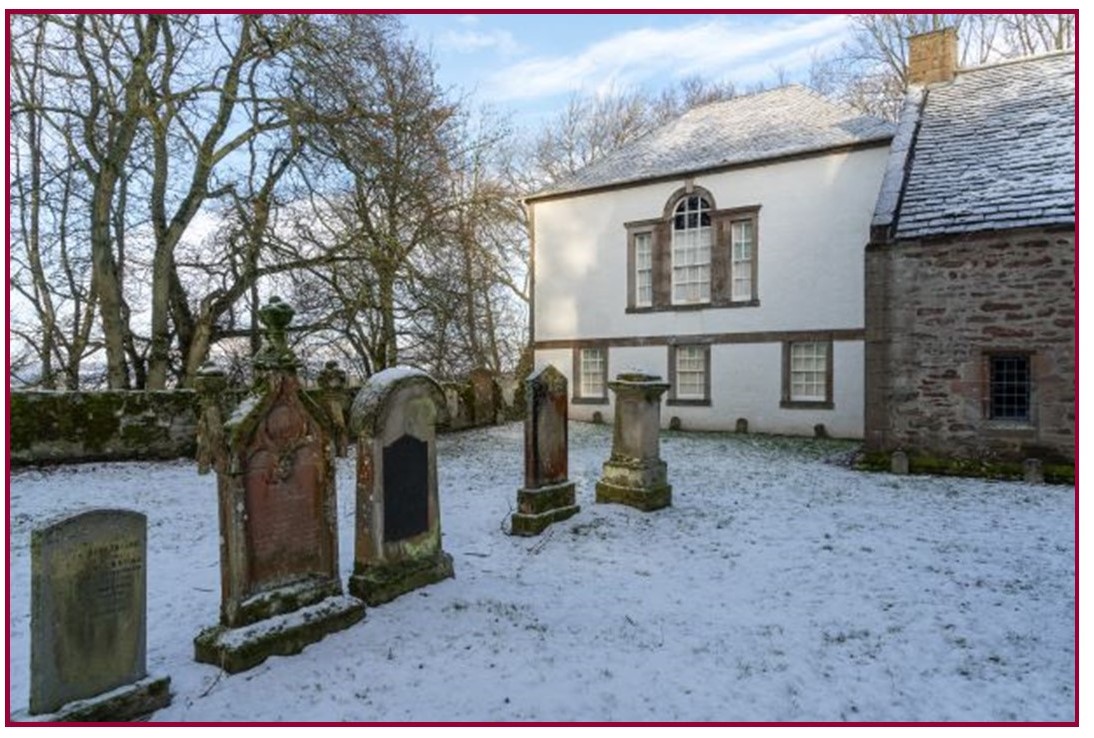 Friends of Innerpeffray Library
Join us for a virtual version of Carols from Innerpeffray, recorded last year in the Library, featuring music from Peter Banks, Peter Grant, Michelle Sheridan-Grant and Joan Taylor, with readings from local school pupils and the FOIL Committee. Free to watch – donations welcome!
Friends of Innerpeffray Library – Scottish Charity No: SC 023545
friends@innerpeffraylibrary.co.uk
Update October 2021
Dear Friends
A huge apology for my lack of communication these past months regarding Carols at Innerpeffray. It was my stated intention back in August that we should make every effort to stage the Carols in December 2021. Sadly the uncertainty regarding restrictions relating to the Covid pandemic has made this impossible.
The recent news that Historic Environment Scotland will not be opening St Mary's Chapel until April 2022, at the earliest, meant that we had to find another venue; St Andrew's Church Hall, an option on previous occasions, is not available. When I considered things I came to the conclusion that Carols at Innerpeffray should be just that, as the charm and appeal of the event relies not just on the music but on the location. If we could rely on the weather being 'deep and crisp and even' we could all have wrapped up warmly, lit a few fire pits and stood at the Stone Circle. Those of you who experienced Carols 2019 will remember the unrelenting rain…..
FOIL has had a difficult two years and the support of our members has helped us survive. We are well advanced in planning a programme for next year and Carols at Innerpeffray is scheduled for December 2022.
Last year we broadcast Carols from the Library on our website. This recording will be available to view again from 1st – 24th December 2021. Click here to view
Do join us at the Christmas Fayre in the schoolroom on 12th and 13th November, 10am – 4pm.
kind regards
Joan Taylor, FOIL Convenor
The Friends of Innerpeffray Library is a charity constituted separately from Innerpeffray Library under Scottish Charity No. SC 023545. It was founded in 1993 with CRIS 21975/20.
The 2021 AGM was held on 18 August @ 7pm via Zoom and the minutes including the Convenor's Report and Treasurer's Report cane be downloaded above.
Booking Arrangements under Covid Regulations
For the foreseeable future it will be necessary to adhere to Scottish Government guidelines for all FOIL meetings and events. This means that there will be limits on the numbers that can attend an event and that contact details for Test &Trace will need to be provided by those attending. To make this as simple as possible the Library has introduced a new arrangement using a reservation system called Art Tickets, which has been designed especially for charitable organisations in the museums and galleries sector.
The Library has set up a page on Art Tickets with details of ALL events, both FOIL and Library events which looks like this: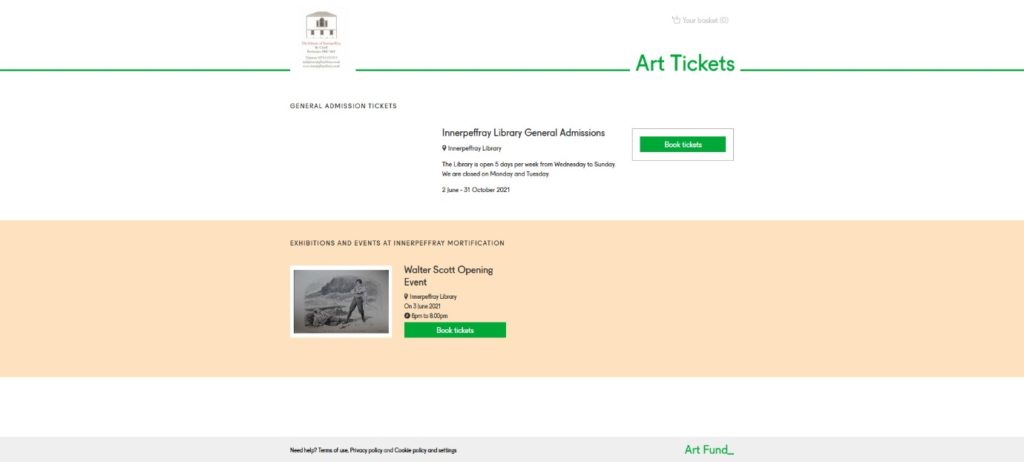 Each meeting or event is shown in the salmon pink area. To reserve your place at a meeting or event you have to click on the 'Book Tickets' box and follow through the instructions on the subsequent pages. If there is a charge for an event you will be asked to pay for your ticket in advance. You will also be asked for your contact details. You can then print your ticket(s) or download them to a phone or similar device. If you bring the ticket(s) with you to the meeting or event it will simplify the entry procedure at the door immensely. FOIL officers on the door will know that anyone with an Art Tickets ticket will have pre-paid and will have entered their contact details already.
We hope that you will find this system easy to use and an efficient way of avoiding what would otherwise be a cumbersome and inconvenient melee at the start of every meeting. If you have any difficulty using the system please phone a member of the FOIL committee or the Library who will be happy to provide any assistance.
What we do
FOIL – the Friends of Innerpeffray Library –was founded with the aim of generating funds to be used for the preservation of the fabric of the Library and for the books themselves. It does so by organising an annual programme of events, at the centre of which is a series of monthly talks on a wide variety of topics. The speakers might typically be authors, historians, artists or musicians sharing first-hand experience of their specialist subjects. In addition to the talks FOIL also participates in local activities such as the Drummond Castle Charity Fete and farmers' markets – raising awareness of the Library as well as funds. FOIL also offers support in many practical ways at Library events and works closely with the Keeper of Books and the Governors for the greater good of Innerpeffray Library.
We are currently updating the membership information. If you have not received our Appeal letter from the Convenor by 10th August, please email friends@innerpeffraylibrary.co.uk or call Lara at the Library and let us know.
How you can help
Become a Friend
For a modest annual subscription you may join the company of like-minded people who are concerned for the on-going welfare of the Library. You will benefit from complimentary entry to the Library at any time during opening hours and will be entitled to attend the majority of our programme of talks at a discounted rate. You will be advised of forthcoming events and will also receive a copy of the newsletter FOIL News that is published each year.
Come to a Meeting
The programme for the current season has been postponed until 2021. We hope that you will understand the need to do this and look forward to welcoming you next year. You are encouraged to support the monthly talks and our other activities to help make this another great year for FOIL and the Library. To book for any FOIL event please click on the Events tab below Shop on the menu above. Instructions for first-time users of the Shop are in a User Guide which may be downloaded here.
FOIL PROGRAMME 2021
It is hoped that it will be possible to resume FOIL talks during 2021. Details will be included here as soon as they are known.
Contact FOIL
Send us an email, addressed to: friends@innerpeffraylibrary.co.uk or send us a message using a contact form that you can get to by clicking here.
The Committee
The current members of the Honorary Committee are:
| | |
| --- | --- |
| Officers: | Committee Members: |
| Convenor: Joan Taylor | Charles Crookshank |
| Hon Secretary: Kirsty Macdonald | Iain Gilmour |
| Hon. Treasurer: John Mauchline | Pamela Haggart |
| | Shona McLaren |
| | Alison Martin |
| | Gillian Wade |
You can pay your subscription via the online Shop or send a cheque to Iain Gilmour, Membership Secretary, at the Library of Innerpeffray, Innerpeffray, Crieff, PH7 3RF