Looking back over a year of lockdown, our Keeper of Books shares thoughts on libraries' ability to adapt.
The Library of Innerpeffray was Scotland's first free, public lending library, founded in 1680 by local nobleman and landowner David Drummond, third Lord Madertie. The library is located in Perthshire in central Scotland where the Lowlands and the Highlands meet in a fertile river valley or strath called Strathearn. This is not perhaps the first place you would expect to find such a landmark institution: the Library's location is a source of constant wonder to visitors today, explained by the proximity of the founder's home and its original site in the Chapel of St Mary of Innerpeffray. After the Reformation of the Scottish church, Innerpeffray Chapel was a convenient empty building – and perhaps one that inspired a suitable level of awe and respect – beside a busy crossing place of the River Earn.
The Library moved slightly (5 metres to the west) 82 years later and now is housed in an elegant neoclassical two-storey building, purpose-built at the instruction of Robert Hay Drummond. Hay Drummond inherited the Innerpeffray estate in 1739 and was keen to bring it up to date, buying new books and commissioning the architect Charles Freebairn. Hay Drummond went on to become Archbishop of York, but this busy and influential man still took the time to care for a small, local institution on his family estate in Scotland.
Madertie's Will, written in 1680, and revised in 1694, states the purpose of the Library to be for the benefit of young students and he charges his successors to maintain a stock of books 'for time coming' and to be 'provided with a Keeper'. The Library is still run by the Innerpeffray Mortification, a charitable trust set up in 1696 after his death, and today combines the role of museum, reference library and visitor experience, caring for a significant collection and sharing the story of this very small but special national treasure. I am the thirty-second person to hold the post of Keeper of Books in Innerpeffray's 340 year history.
Innerpeffray opens for the visitor season on 1st March; and last year it was a scant four weeks later that, faced with growing anxiety from our volunteer team and a torrent of confusing media messages, our Trustees closed the doors again: lockdown in Scotland had begun.
The question that faced us here at Innerpeffray was – when your purpose is to be open, what do you do when you close? It helps when your Library is in the middle of nowhere. For many libraries, closed is closed: no staff, no services, no behind the scenes catch-up with cataloguing, but at Innerpeffray the Keeper lives on site and going in every day was not just possible but desirable. Checking a historic building is just one function of this role; unlike many colleagues I was able to visit regularly, ensuring the conditions were suitable for our rare books collection and that there was no damage from wind and weather.
Initially, it felt busier than ever. With a flurry of telephone calls and learning the new video conferencing options our Trustees confirmed the Keeper should stay working. Email brought a series of cancellations. We had spent years building up regular stops from tour operators, guides and cultivating visits from tourists to the area and interest group outings; recognised last year with a Visit Scotland Thistle Award for Best Regional Heritage Experience. One by one these disappeared from our calendar. The tourism sector in Scotland is worth £10 million to the Scottish economy and there are committed individuals and organisations in the industry who were galvanised into extremely positive action and advocacy. Locally and nationally we started receiving updates on support schemes and advice from the heritage and museums sector, from the visitor attraction community and from colleagues in public and special collection libraries.
The next phase of lockdown was sifting through the advice to determine what suited our particular case, applying for funding that was available and, for the Trustees, looking at the financial position. At least half of our income comes from visitors – tickets for entry, donations on site and a series of fundraising events, like concerts, all of which looked more and more doubtful as the month of April progressed. Reading the guidance, which changed on a weekly basis, became a trial.
With the immediate crisis stabilised, our thoughts turned to what we could do to keep in touch with our audience and our all-important volunteer team. We are fortunate to have a wide circle of Friends of the Library and past visitors. We felt it was important to let them know the Library was still here, even if they couldn't visit, and also to try to engage new visitors for the future. I wrestled with the conflicting ideas that a hands-on visit at Innerpeffray was the most special part of the experience versus the need to communicate digitally. Thus Tours with the Keeper were born. I wrote and filmed a trial piece where I took books in the Library on a theme and gave the virtual equivalent of a guided tour. A steep learning curve around the technology coupled with the practical difficulties of making a quality product single-handed certainly kept the Keeper busy, but it was also a joy to be working with the collection again, and doing what we do best, opening the books and sharing them.
We were missing our volunteer team: crucial to the running of the Library today, we have an enthusiastic and committed group of people who give up their time to help us share the collection as guides. Mainly of retired age, the team is therefore made up of those who are more vulnerable and included people who were shielding. There was a slow realisation that the sudden and dramatic disruption of the pandemic was not just a short-term issue, the longer-term operation was in jeopardy. During the lockdown, and making use of the Zoom platform, we instituted a virtual elevenses (bring your own tea or coffee), to keep in touch, allowing me to update the team and most importantly to maintain a social contact amongst the group. Professional bodies and umbrella groups began to offer seminars and social gatherings on virtual platforms as well and I felt extremely fortunate that I was not one of those furloughed from their jobs, isolated from their institutions and collections and unable to work. Maintaining contact with my team also meant that when restrictions were lifted enough to permit re-opening most of the staff were relatively informed. Some of our team will not be back this year, but we have been staying in touch. We developed a new protocol for visitors by the simple expedient of walking the customer journey ourselves, several times, with different people, risk assessment in hand. By a series of reviews and tests we added all the hygiene and distancing measures, including creating an external 'waiting room' in a gazebo outside our front door. We instituted visits by appointment, using an online calendar but also wanted to be flexible, giving the option to telephone; and because we know many people find Innerpeffray by accident, offering slots to those who just drop by.
As I write this, the Library has re-opened and been welcoming visitors again for the past three weeks. We have had to restrict the number of visitors, which has the bonus of having our lovely little library all to yourself for a private visit; and restrict access to our books, which we are finding harder to accept as this is such an integral part of our identity. Our exhibitions for the year: Extreme Weather; Scottish Royalty and a new display on Plague and Pestilence have all been popular, however we have had less than a quarter of our usual visitors. Reduced visitors means less income, though this has been mitigated somewhat by an Appeal that attracted many generous donations and the success of our new online shop. The shop was a new venture for us, started in March to assist with event ticketing: with all events cancelled or postponed the merchandise side flourished, and our Keeper of Books badges caused a minor sensation on Twitter.
As Innerpeffray looks to the future it is reassuring to feel that we have a library that moves with the times; whether that is the dawn of the 18th century or the 21st. A change in operations is nothing new: our business model will adapt, we will find a new approach to raising funds for the future and the digital development provides new pathways for us to connect with a global audience. And still the books remain on the shelves inspiring us to pass on their stories, to share them and their wonders. Which puts me in mind of the words of Czech poet Czeslaw Milosz:
"Yet the books will be there on the shelves, well born,
Derived from people, but also from radiance, heights."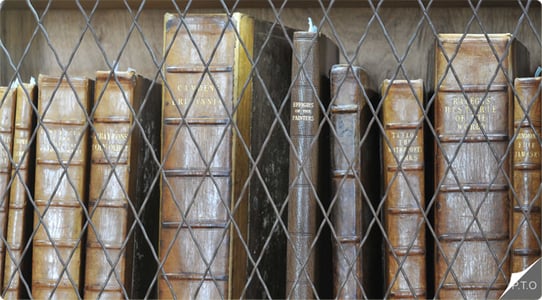 This article originally appears in Alexandria, a journal of national and international library issues. 1. Haggerty L. Libraries in lockdown. Alexandria. January 2021. doi:10.1177/0955749020985161