What's on at Innerpeffray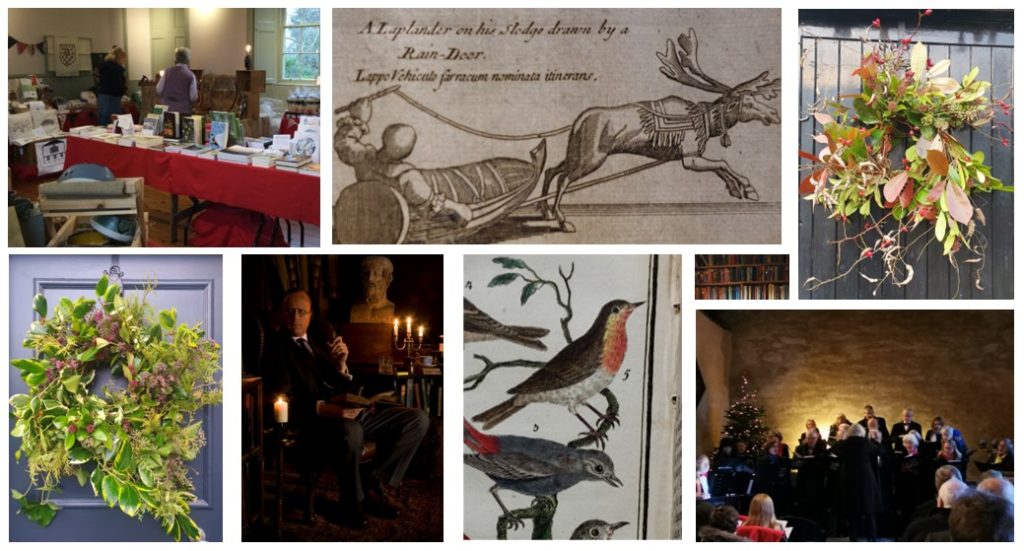 The Library runs events throughout the year: exhibitions from the collection, events connected to the collections and music and social events to raise funds for running costs and special projects. Find all the dates for your diary and a downloadable copy of our Footnotes newsletter on this page.
For tickets and information: tel. 01764 652819, email info@innerpeffraylibrary.co.uk, or book online via the links given below.
If you are not able to visit us, we have a selection of videos to enjoy from your armchair on our website, bringing alive the collection with our Keeper of Books and Volunteers.
Dates for your diary
| | | |
| --- | --- | --- |
| Fri 10th / Sat 11th Nov 10am—4pm | Innerpeffray Festive Fayre—a chance to buy a range of exclusive, bookish gifts and local crafts. Seasonal refreshments available. | Free |
| Fri 17th Nov 2.30-5pm | Make A Christmas Woodland Wreath with Gwyneth Hardy. Tickets available here. More information here. | £30 |
| Tues 21st Nov 7pm | Nunkie Theatre present Gravest Fears, an evening of MR James in the schoolroom (tickets available here) | £15 |
| Sat 2nd Dec | Carols from Innerpeffray in the Library at 3pm and 6pm (tickets available here) | £10 |
| Sun 3rd Dec | Carols from Innerpeffray in the Chapel at 3pm (tickets available here) | £10 |
Exhibitions in 2023 – A Library of Learning & Nothing New
Innerpeffray was set up in 1680 for the benefit of 'young students' – this year we explore the kinds of books used for learning and 'how to' guides. A surprising variety of topics are in the collection, including practical books for occupations as wide ranging as architecture and fly fishing, manuals for messengers and goldsmiths plus a few unusual subjects like astrology and camel riding. By far the largest number and most popular books borrowed are in the theme of 'practical divinity' or spiritual self-help as people sought, just like today, for consolation in difficult times and to live a good life.
Alongside this display of 'learning' books, we are showing some of the items that often make us think 'there's nothing new'! What are sometimes seen as innovations, have actually been around for centuries: recycling, mindfulness, crowdfunding to name just few, come and enjoy our dip into the past.
Although you can't borrow books at Innerpeffray any more, all books in the collection and exhibitions are available to read, so please do ask if you have an interest in a particular subject. Only our very fragile books are exceptions to this and our guides are always happy to assist.
In the schoolroom
Free entry, open during usual Library opening hours. Tea/Coffee available, and pre-loved books for sale (honesty box). Please note the schoolroom may be closed to accommodate private bookings and events, do call to check to avoid disappointment.
Private Events
If you would like to hold a private event at the Library, Schoolroom or both please do get in touch. We are delighted to hold book launches, weddings, birthday treats and private tours outwith opening hours.