Open all year round, walk through Innerpeffray's history.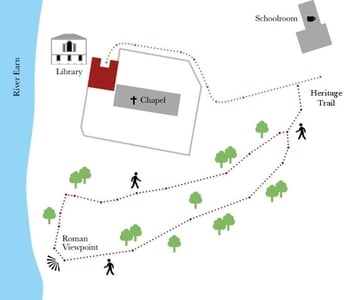 Our outdoor Heritage Trail is now open for visitors. We hope you enjoy exploring the path to the river and the new planting and trail markers: the trail is still a work in progress and we may see volunteers working to keep the site tidy and we are still working on the dry stone wall circle beside the river.
In 2019 Innerpeffray Library opened a Heritage Walk in the land adjacent to the library. The walk is marked by trail markers telling the story of this ancient place from the Ice Age to the present day. The trail enables you to view the route of the best preserved Roman roads in Scotland and discover more about how the landscape and history intertwine. The path also give you the opportunity to walk down to the River Earn, perhaps to have a picnic or simply to enjoy the views of some of the most beautiful and tranquil countryside anywhere in Scotland.
Experience the changing scenery as trees and wild flowers grow throughout the seasons. The snowdrops look particularly fine from early February to mid March.
Access and Safety The lower path section is suitable for wheelchairs. Please take care beside the river as the water is fast-flowing and deep. Please respect the site and other people using it and we ask that you do not light fires or leave litter, do pick up after your dog if necessary. Overnight camping is not permitted. Thank you.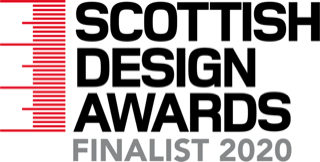 We are delighted that the design of the Trail by Collaborate Creative has been shortlisted in the Scottish Design Awards!
You can read more about the story of the trail in our illustrated guidebook, available in the Library or in the shop.
The trail was made possible thanks to the permission of the Colquhalzie Estate and the financial support of National Lottery Heritage Fund, Perth and Kinross Rural Leader, SSE Renewables Sustainable Development Fund, The Gannochy Trust, Auchterarder Community Development Trust, The Maclagan Trust, Coop Good Causes Fund and many individual supporters.