Borrowers' Register
Innerpeffray has one of Europe's oldest surviving examples of a library borrowers' register, dating from 1747 to 1968. Local people who visited Innerpeffray are recorded here, often in their own handwriting, and giving their address and occupation, as well as their choice of book.
Meet some of our Borrowers and read their Stories in our blog.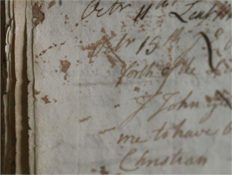 Is your family here?
Is your family here? Are you searching for your family history in Strathearn, Perthshire or near Crieff? If your family lived locally we can search the register and find out whether they ever borrowed a book. If you visit the Library and a record is located, we will also be able to show you the book (or books) they borrowed, and let you hold them of course!
More family history and ancestry information is available through the Local and Family History Department at Perth & Kinross Council. Their friendly and helpful team will help answer you queries – find out more here: http://www.pkc.gov.uk/localstudies
Further Research
In 2011 we began a research project with the University of Stirling to record and map the Borrower's register. We hope that you will soon be able to browse the full register on a dedicated website, as well as in the Library itself. As more data is included in the project and research findings developed the website will be updated.
The Library is delighted to announce a PhD Studentship in collaboration with the Univerisities of Stirling and Dundee. Funded by the Scottish Graduate School of the Arts and Humanities (www.sgsah.ac.uk), the University of Stirling (www.stir.ac.uk) and the University of Dundee (www.dundee.ac.uk), this studentship is an Applied Research Collaboration Studentship.
Jill Dye completed her PhD in Decmeber 2018 and you can access it here.
Read more in our Blog http://www.footnotesfrominnerpeffray@blogspot.co.uk
Early research in this project was made possible with the support of:
The Gladys Krieble Delmas Foundation
The Carnegie Trust for the Universities of Scotland

Stirling University
www.stir.ac.uk/arts-humanities/
Do you have an Innerpeffray Story?
Do you have an Innerpeffray Story? We are always looking for stories, memories and reminiscences of time at Innerpeffray, whether of the Library, the School or just a prior visit. Please contact us if you woudl be willing to share your story with us.